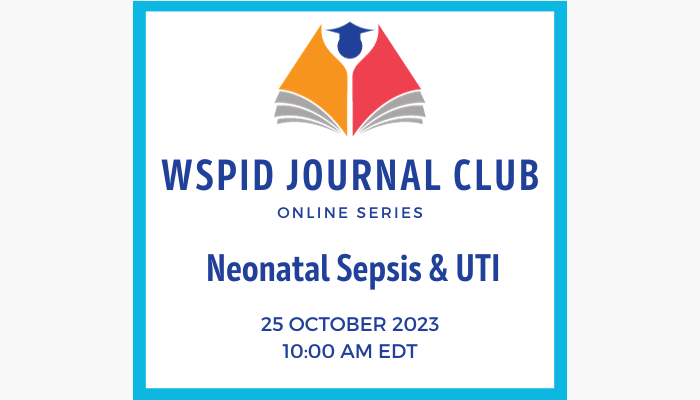 WSPID Journal Club – October 2023
You are warmly invited to our upcoming WSPID Journal Club!
About the Session
This month, our focus is on a recent research paper titled "High Rates of ESBL-producing and Gentamycin-resistant Gram-negative Bacteria During the First Week of Life: A Multicenter Cross-sectional Study Among Infants Younger Than 2 Months With Urinary Tract Infection" published in the September 2023 issue of the Pediatric Infectious Disease Journal. We will critically evaluate this cross-sectional research paper to identify learning points related to neonatal sepsis and urinary tract infections(UTIs) while considering its strengths and weaknesses.
Join our panel of experts as we explore the intricacies of this study and enhance your ability to critically evaluate research in the field of pediatric infectious diseases.
Presenter: Dr. José Castillo (Mexico)
Co-Presenter/mentor: Dr. Abiel Mascarenas (Mexico)
Date: 25 October 2023
Time: 10:00 EDT Convert to your own time zone
Learning Objectives
Improve your ability to critically evaluate a cross-sectional research paper.
Identify key learning points related to neonatal sepsis and UTI from the reviewed article.
Discuss the strengths and weaknesses of the study.
Program
Welcome & introductions
Critique of article by Dr. José Castillo
Discussion with the audience & faculty
Closing remarks
Don't miss this opportunity to engage in a stimulating discussion and gain valuable insights into neonatal sepsis and UTI research. Reserve your spot now by clicking the registration link above.
Session Recording
The recording of this session together with the article will be made available on the WSPID Global E-Learning Portal after the session. Create a free account on the Portal today to access this and all future WSPID Journal Club sessions.
We look forward to seeing you at the session!