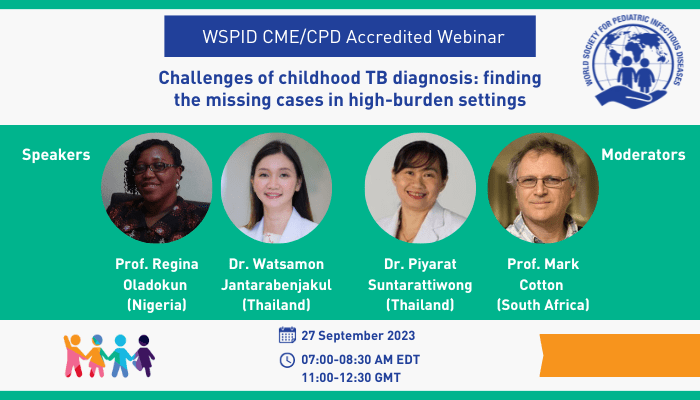 New Live WSPID Webinar: Challenges of childhood TB diagnosis
You are warmly invited to our upcoming WSPID Webinar! This webinar will include two presentations and a live Q&A with the speakers and moderators.
About the Session
The theme of this session is Challenges of childhood TB diagnosis – Finding the missing cases in high-burden settings.
Speakers: Prof. Regina Oladokun Dr. Watsamon Jantarabenjakul
Moderators: Prof. Mark Cotton and Assistant Prof. Piyarat Suntarattiwong
Date: 27 September 2023
Time: 7:00-8:30 AM EDT (11:00-12:30 GMT, 13:00-14:30 CEST, 18:00-19:30 ICT, 20:30-22:00 ACST) Convert to your own time zone
Program
An overview and update of TB diagnosis in children (+/- a case study) – Dr. Watsamon Jantarabenjakul
Childhood and adolescent TB: how can we find the missing cases? – Prof. Regina Oladokun
Learning Objectives
Explain the current diagnostic schemes for children at-risk of tuberculosis
List the factors that can lead to misdiagnosis or under diagnosis of TB in children and adolescents.
Indicate modalities for finding the missing cases of TB in children and adolescents.
Session Recording
The recording of this session together with the article will be made available on the WSPID Global E-Learning Portal after the session. Create a free account on the Portal today to access this and all future WSPID Journal Club sessions.
We look forward to seeing you at the session!