The Asian Society for Pediatric Infectious Diseases (ASPID) and its President, Dr Usa Thisyakorn.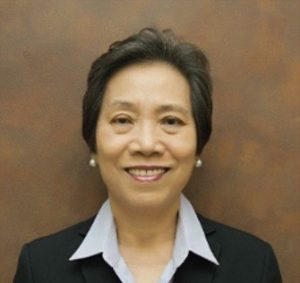 Dr Usa Thisyakorn, President

The Asian Society for Pediatric Infectious Diseases (ASPID)
With the WSPID 2019 congress taking place in Manila, The Philippines, we're delighted to put the spotlight on our member in Asia – the Asian Society for Pediatric Infectious Diseases (ASPID) and its President Dr Usa Thisyakorn.
Tell us a bit more about yourself? 
Well, I am a Professor of Pediatrics at Chulalongkorn University, one of the premier university hospitals in Thailand. I also am an advisor to the Faculty of Tropical Medicine of Mahidol University, the Department of Health of the Bangkok Metropolitan Administration, Her Royal Highness Maha Chakri Sirindhorn Medical Center of the Faculty of Medicine of Srinakarinwirot University and the Faculty of Medicine of Thammasat University. I also hold positions as a standing committee member of International Pediatric Association, Immediate Past President of International Society of Tropical Pediatrics, a member of the Executive Committee of the International Society of Tropical Pediatrics and, as you may have guessed already, the President of the Asian Society for Pediatric Infectious Diseases. It's a rather busy life. I am interested in HIV, vaccines, pediatric infectious diseases and, particularly dengue.
Why did you choose a career in infectious diseases?
When I was a medical student, I was moved by the sufferings of pediatric infectious disease patients at Chiang Mai University, Thailand. I was inspired by the fact that many pediatric infectious diseases could be prevented or properly treated if recognized and treated early enough. Thus, I became a pediatric infectious diseases doctor.
How important to you is your work of Asian Dengue Vaccine Advocacy? What do you hope to achieve in Thailand?
It is very important. A recent estimate was that 70% of the global dengue burden falls on Asia, so the majority of this fight is in the region. Personally, I believe in control and prevention. Advocacy is key in mobilizing resources to achieve the World Health Organization's (WHO) goals for dengue to reduce mortality by at least 50% and morbidity by at least 25% by 2020AD. We are very fortunate to have not only the Asian Dengue Vaccination Advocacy (ADVA), but also the Global Dengue and Aedes-Transmitted Diseases Consortium (GDAC), the Southeast Asian Ministers of Education Organisation Tropical Medicine and Public Health Network (SEAMEO TROPMED) and Fondation Merieux (FMx) as partners. I hope that together we will be able to coordinate the presently fragmented efforts to prevent and control dengue.
As for Thailand, it is suffice to say that I wish to see the same success in reducing dengue by the WHO's goals as well as other priority pediatric infectious diseases as I wish for all affected countries around the world.
Why did you join ASPID? What are the benefits to pediatric infectious disease specialists of joining a society like ASPID?
I joined ASPID because I felt that it is a suitable platform for advocacy, partnerships and networking. This is because ASPID conducts educational seminars, workshops and other scientific meetings. In particular, ASPID has a biannual congress, which I think can promote and encourage research collaborations in pediatric infectious diseases. Thus, this society is contributing to technical elements 1 and 5 of the WHO's global strategy for dengue prevention and control, which are diagnosis and case management as well as basic operational and implementation research, respectively. I am happy to have a role in these activities.
Specialists who join a society like ASPID can improve their awareness and knowledge in pediatric infectious disease. Indeed, some activities may be rated as Continuing Medical Education (CME) activities by the specialist's country, and there are reduced fees for attending society activities. I would also like to emphasize that all specialists have a valuable contribution to make in efforts to coordinate activities to fight priority pediatric infectious diseases such as dengue, and attending organized events and activities can help specialists align their work with regional and global efforts. We are all on the same team.
What are your goals for ASPID during your time as president?
I would like to boost advocacy efforts. At present, there is still a lack of Asian regional unity and coordination in efforts to fight priority pediatric infectious diseases such as dengue. In addition, more funding needs to be found for vector control, vaccination programmes and research in many Asian countries. The pan-Asian nature of ASPID is an ideal way to get the message of unity and coordination across as well as to form partnerships and network together towards better public health programmes and research. These actions are pressing needs as factors such as changes in climate, patterns of human activity and the virus itself may be causing a dramatic upsurge of the disease burden in affected countries.
Asia has its fair share of natural disasters – how does this impact pediatric infectious diseases?
I think that natural disasters will have a major impact. Particularly in Asia, global warming injecting energy into the global weather system has caused an increased number and intensity of tropical cyclone as well as fluctuating rainfall patterns. Infectious diseases may be caused by displacement of people into overcrowded camps, contamination of water caused by destruction to infrastructure, proliferation of organisms that are disease vectors and the breakdown of health care services, which may persist long after the initial disaster. Infectious diarrhea, leptospirosis and mosquito-borne diseases have all been documented following flooding and bad weather disasters. In Asia, governments and the regional international community need to be better prepared and coordinated to meet the challenges of epidemic disease and longer term effects of natural disasters.
Do governments in Asia spend enough resources on the prevention of pediatric infectious diseases?
It might not be appropriate to generalize about this point. It depends on the financial resources. Fewer of the world's high income countries are in Asia. The majority of Asian countries are middle or low income countries, so their governments often must not be blamed for the resources that they allocate to health care when so many important developmental issues such as education and infrastructure also need to be addressed. Nevertheless, it is our duty as health care workers to advocate for the best share of the limited resources that we can obtain.
Does the lack of new vaccines worry you?
Yes, it does. For example, chikungunya and Zika virus have been identified by the WHO as emerging pathogens that need vaccine development urgently. Clinical development pipelines of vaccines for epidemic infectious disease are generally fragmented and suffer from insufficient research resources in the countries where they are needed. To address these inefficiencies, a global partnership called the Coalition for Epidemic Preparedness Innovation (CEPI) was formed in 2016. It is hoped that this will encourage, fund and coordinate vaccine development against epidemic infectious disease. More funding is also required for new and underused vaccines. Diarrhea and respiratory tract infections are two big killer of children, and more funding is needed to equitably and justly distribute vaccines such as pneumococcus and rotavirus to all. These vaccines cannot just be for the rich who can afford to pay for them.
Are there opportunities for societies like the ASPID to play a role in vaccine advocacy?
Yes, of course. I think that I have alluded to that point early in this interview. However, giving specifics about ASPID affiliations, there is the Asian Strategic Alliance for Pneumococcal disease prevention that comprises of key regional pediatric opinion leaders, which had a meeting at the 8th Asian Congress of Pediatric Infectious Diseases held in Bangkok, Thailand in November 2016. There is also the Rotavirus Organization of Technical Allies (ROTA) Council, which is dedicated to promoting the use of rotavirus vaccines. This organization had an advocacy workshop called "Evidence-based advocacy for rotavirus prevention in Asia" also held in Bangkok, Thailand in November 2016. So, as you can see, there are many opportunities for ASPID to get involved in advocacy, and we are doing our best to be active.

How can international umbrella organizations like the WSPID collaborate more effectively with regional societies?
Well, the WSPID could be useful in forming international partnerships and networks that reach beyond the Asian region. Yes, there are major international umbrella organizations such as the WHO and UNICEF, but there could be opportunities to further recruit expertise and funding amongst non-Asian research institutes that could be stimulated by the WSPID. In 2016, Thailand became the first Asian country to eliminate vertical transmission of HIV, and this was achieved with contributions of expertise and funding from a global community of stakeholders. I think that this is a shining example of what may be achieved by collaborations with a global reach.
Will you attend WSPID 2017?
Yes, and I am looking forward to it because I have a role in organizing the ASPID symposium part of it. I hear that 70% of the participants will be pediatric infectious disease specialists, so it should be well worth attending for any such specialist worldwide.
What sessions are you most excited about?
I will be taking a keen interest in any topics regarding dengue fever as this is a most pressing issue at present as it is a fast emerging pandemic-prone disease. I will be taking on board any interesting ideas and networking opportunities that may develop from the meeting.